Sila gunakan SERVER yang lain di bahagian OPTION sekiranya server yang utama tidak berfungsi.
Naruto Shippuden Episode 106
Red Camellia
Yūkimaru falters and the Three-Tails injures Guren. Rinji tells Yūkimaru to suppress the beast to save her, but he is unable to do so. Guren leaves her position and protects Yūkimaru with a Crystal Style shield. Naruto goes out to find Yūkimaru, but ends up fighting the Three-Tails with Guren. Despite their efforts to defeat it, the beast overpowers the two of them, and then it proceeds to swallow them. Meanwhile, Kakashi, Shino and Sai find Yūkimaru unconcious and flee with him, leaving Kabuto frustrated.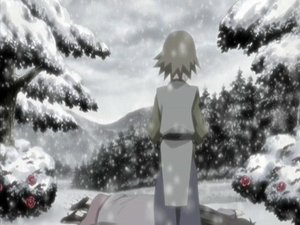 Apr. 23, 2009
Naruto Shippūden season 5