Sila gunakan SERVER yang lain di bahagian OPTION sekiranya server yang utama tidak berfungsi.
Naruto Shippuden Episode 107
Strange Bedfellows
Guren tries to attack Naruto within the Three-Tails, but, in her weakened state, is unable to do so and passes out. Meanwhile, Kakashi tells Sakura and Ino to heal Yūkimaru while he, Shizune, Kiba, Sai, and Hinata search for Naruto. Naruto and Guren soon encounter a horde of mini Three-Tails that try to attack them, but they evade them and begin to argue about Yūkimaru. While Yūkimaru awakens, Naruto summons a bunch of Shadow Clones to look for a way out of the beast's stomach. Elsewhere, Kabuto gives Curse Marks to Rinji's men.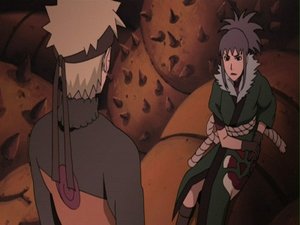 Apr. 30, 2009
Naruto Shippūden season 5