Sila gunakan SERVER yang lain di bahagian OPTION sekiranya server yang utama tidak berfungsi.
Naruto Shippūden Episode 111
Shattered Promise
The sealing team continue their efforts to seal the Sanbi while Kakashi and the others face against a monster fused together by Kigiri, Nurari and Kihou. Kabuto reveals Orochimaru's plans involving the Sanbi and he and Naruto begin to fight. While protecting Yukimaru, Guren fights against the real Rinji, who has been resurrected by Kabuto. When Guren sacrifices her life to save Yukimaru, Yukimaru's powers go into full effect. Now, in order to protect Yukimaru, Naruto prepares to go against the rampaging Sanbi.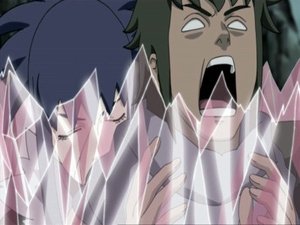 May. 28, 2009
Naruto Shippūden season 5